On Learning the Constellations: We advise learning a few constellations each month, and then following them through the seasons. Once you associate a particular constellation coming over the eastern horizon at a certain time of year, you may start thinking about it like an old friend, looking forward to its arrival each season. The stars in the evening scene above, for instance, will always be in the same place relative to the horizon at the same time and date each December. Of course, the planets do move slowly through the constellations, but with practice you will learn to identify them from their appearance. In particular, learn the brightest stars (like Sirius and Procyon in the above scene), for they will guide you to the fainter stars. Once you can locate the more prominent constellations, you can "branch out" to other constellations around them. It may take you a little while to get a sense of scale, to translate what you see on the computer screen or what you see on the page of a book to what you see in the sky. Look for patterns, like the three stars in a line in Orion's belt.
The earth's rotation causes the constellations to appear to move across the sky just as the sun and the moon appear to do. If you go outside earlier than the time shown on the charts, the constellations will be lower to the eastern horizon. If you observe later, they will have climbed higher.
As each season progresses, the earth's motion around the sun causes the constellations to appear a little farther towards the west each night for any given time of night. If you want to see where the constellations in the above figures will be on January 15th at 9:30pm CST, you can stay up till 11:30pm CST on the December 15th and get a preview. The westward motion of the constellations is equivalent to two hours per month. For instance, if you want to see what stars will be on your eastern horizon on March 15th at 9:30pm CST (3 months later), you would need to get up at 3:30am CST in the morning on December 15th (3 months times 2 hours/month = 6 hours).
Recommended:
Sky & Telescope's Pocket Star Atlas is beautiful, compact star atlas.
A good book to learn the constellations is Patterns in the Sky, by Hewitt-White. You may also want to check out at H. A. Rey's classic, The Stars, A New Way to See Them.
For skywatching tips, an inexpensive good guide is Secrets of Stargazing, by Becky Ramotowski.
A good general reference book on astronomy is the Peterson Field Guide, A Field Guide to the Stars and Planets, by Pasachoff. The book retails for around $14.00.
The Virtual Moon Atlas is a terrific way to learn the surface features of the Moon. And it's free software. You can download the Virtual Moon Atlas here.
Starry Night has several software programs for learning the night sky. Visit the Starry Night web site at www.starrynight.com for details. If you have a smart phone, consider the Sky Safari 3 app (see below) before buying this software.
Cartes du Ciel (described in the monthly notes above) is a great program for finding your way around the sky. It is free, and can be downloaded here. Again, if you have a smart phone, consider the Sky Safari 3 app instead.
Apps: We really love the Sky Safari 3 Pro application. For upcoming events, the Sky Week application is quite nice. It is available for both I-phone and Android operating systems.
Amphibians: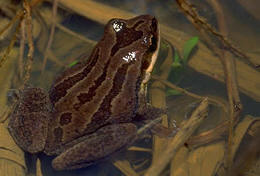 Upland Chorus Frog
December really marks the beginning of the breeding season for our Tennessee frogs and toads. We have had breeding choruses of Upland Chorus Frogs as early as December 4th. Breeding even before Wood Frogs, these irrepressible inhabitants of flooded winter fields and other wet areas will call throughout the cold winter months. Listen for their call, which sounds like someone dragging their thumb across the teeth of a plastic comb, on mild wet winter evenings. Listen also for Southern Leopard Frogs. We hear them throughout the fall. Many other Tennessee frogs and toads can also be seen on mild December nights, but most are silent.
Recommended: The Frogs and Toads of North America, Lang Elliott, Houghton Mifflin Co.
Archives
(Remember to use the back button on your browser, NOT the back button on the web page!)
Natural Calendar November 2013
Natural Calendar September 2013
Natural Calendar February 2013
Natural Calendar December 2012
Natural Calendar November 2012
Natural Calendar September 2012
Natural Calendar February 2012
Natural Calendar December 2011
Natural Calendar November 2011
Natural Calendar September 2011
Natural Calendar February 2011
Natural Calendar December 2010
Natural Calendar November 2010
Natural Calendar September 2010
Natural Calendar February 2010
Natural Calendar December 2009
Natural Calendar November 2009
Natural Calendar September 2009
Natural Calendar February 2009
Natural Calendar December 2008
Natural Calendar November 2008
Natural Calendar September 2008
Natural Calendar February 2008
Natural Calendar December 2007
Natural Calendar November 2007
Natural Calendar September 2007
Natural Calendar February 2007
Natural Calendar December 2006
Natural Calendar November 2006
Natural Calendar September 2006
Natural Calendar February 2006
Natural Calendar December 2005
Natural Calendar November 2005
Natural Calendar September 2005
Natural Calendar February 2005
Natural Calendar December 2004
Natural Calendar November 2004
Natural Calendar September 2004
Natural Calendar February 2004
Natural Calendar December 2003
Natural Calendar November 2003
Natural Calendar September 2003
Natural Calendar February 2003
Natural Calendar December 2002
Natural Calendar November 2002
Nature Notes Archives: Nature Notes was a page we published in 2001 and 2002 containing our observations about everything from the northern lights display of November 2001 to frog and salamander egg masses.
Night scenes prepared with The Sky Professional from Software Bisque
All images and recordings ©