Natural Calendar - October 2012
The purpose of this feature is to give scout leaders, educators and naturalists an idea of some of the natural events coming up each month. We will try to cover a variety of natural events ranging from sky events to calling periods of amphibians, bird and mammal watching tips, prominent wildflowers and anything else that comes to mind. We will also note prominent constellations appearing over the eastern horizon at mid-evening each month for our area for those who would like to learn the constellations. If you have suggestions for other types of natural information you would like to see added to this calendar, let us know!
Note: You can click on the hyperlinks to learn more about some of the featured items. To return to the Calendar, hit the "back" button on your browser, NOT the "back" button on the web page. All charts are available in a "printer friendly" mode, with black stars on a white background. Left clicking on each chart will take you to a printable black and white image. Please note that images on these pages are meant to be displayed at 100%. If your browser zooms into a higher magnification than that, the images may lose quality.
Though we link book references to nationwide sources, we encourage you to support your local book store whenever possible.
Notes and Images From September 2012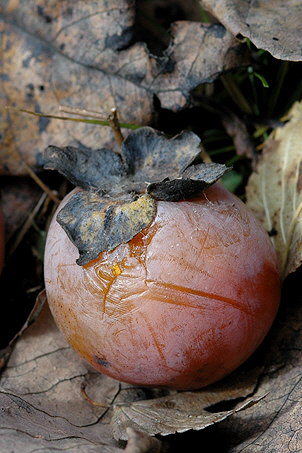 Persimmon Fruit, September 2008, Nikon D70 Camera and Nikon 105mm Micro Lens
There seems to be a very good crop of persimmons this year. Several years ago we worked with MTSU's Center for Environmental Education to put together the Four Season Virtual Tree Trail. The following is from that site:
"The scientific name of the persimmon is Diospyros virginiana. The genus name, Diospyros, comes from the two Greek words; Dios, which refers to the Greek god Zeus, and pyros, for "wheat". Translated freely, it means "food of the gods."
The fruit is famous both for how tasty the fruit is when it is ripe, and how mouth-puckering it is when it is not ripe. Captain John Smith said of the persimmon he first tasted near Jamestown, "If it be not ripe, it will draw a man's mouth awrie with much torment." To be good to eat, the skin must be wrinkled and the fruit must be mushy and almost falling apart.
The Spanish explorer DeSoto is said to have described the fruit as a "delicious little plum." It was made into bread by the Native Americans, and also dried and stored. The Lanape Indians called it pasimenan, a name that has been translated as "persistent fruit." It has been made into jellies and syrups, and during the Civil War confederate soldiers boiled the seeds to make a substitute for coffee."
Comet Hale Bopp, March 27th 1997, 16 minute guided exposure, 300mm Nikon lens. The comet was slowly making it's way through the constellation Cassiopeia
It's been over a decade since those living in the northern hemisphere have seen a really bright comet. Two recently discovered comets could possibly change that.
Comet Pan-STARRS (C2011 L4), discovered in June 2011, is expected to become brightest in the evening sky around March 13th of next year. Comet ISON (C2012 S1), discovered September 24th of this year, could be even brighter. Estimates of its expected brightness have been as high as -10 magnitude, and it could be a naked eye object from early November of next year into early 2014. It too will be well placed for northern hemisphere observers, visible after sunset.
As with all incoming comets, a lot depends on how each comet behaves in the upcoming months. There have been many comets that have been predicted to be spectacular, only to fizzle as they came closer to the Sun. For more on the recent discoveries, see the Sky and Telescope article here.
Last month we talked about the Virtual Moon Atlas, an enormously useful and free computer program for exploring the Moon. Those looking for a really good (and again, free) program for the night sky should consider downloading Cartes du Ciel (Sky Charts). This program is extremely powerful and can be configured to display the latest and greatest star catalogs like the UCAC3. With a "go to" telescope, it can be used to control the telescope with a laptop. It's amazing that amateurs can create software like this, and refreshing that they're generous enough to offer it free of charge. Click here to go to the Cartes du Ciel site.
Sky Events for September 2012:
The Orionid Meteor Shower peaks around October 21st and 22nd. Conditions are favorable this year, with no interference from the Moon. The radiant will be visible in the early morning hours.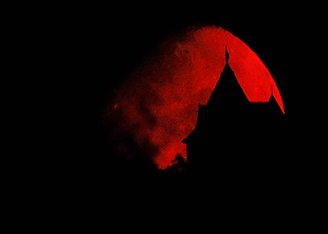 Waxing Gibbous Moon Setting Behind the Renaissance Castle near Triune, Tennessee. Televue 85mm Refractor and Nikon D40x Camera.
The Hunter's Moon , the first full moon after the Harvest Moon, occurs on October 29th. We will be leading an owl prowl at the Owl's Hill Nature Sanctuary in Brentwood, Tennessee on this evening.
If you'd like to have a delicious dinner outdoors and then take a evening walk through the woods, please join us. We'll stop to listen for all kinds of night sounds and try to call in some of the resident owls at Owl's Hill. For more information about the hike and to register for the hike visit the Owl's Hill Nature Sanctuary web site.
Evening Sky: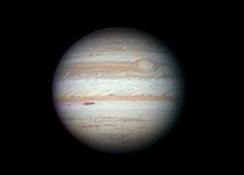 Jupiter December 18th, 2011, 20 Inch Newtonian Reflector and Flea 3 Video Camera
Mars is low in the southwestern sky at dusk at the beginning of the month. Look for it about 15 degrees above the horizon in Libra.
Jupiter rises in Taurus about 9:52pm CDT at the beginning of the month. Those viewing Jupiter telescopically will see a major change in the appearance of the north and south equatorial cloud belts from their appearance in our image at right, taken late last year.
Morning Sky:
Venus rises about 3:25am CDT at the beginning of the month in Leo and is near the bright star Regulus. It will be dazzling in the morning sky throughout October.
All times noted in the Sky Events are for Franklin, Tennessee and are Central Daylight Time. These times should be pretty close anywhere in the mid-state area.
The Pleiades, October 2nd, 2008,
85mm f/5.6 Apochromatic Refractor and ST2000XCM CCD Camera. Total exposure time 1 hour, 20 minutes.
Constellations: The views below show the sky looking east at 9:30pm CDT on October 15th. The first view shows the sky with the constellations outlined and labeled. Star and planet names are in green. Constellation names are in blue. The second view shows the same scene without labels. Bright Jupiter is just rising over the eastern horizon. Prominent constellations include Andromeda, Perseus, Triangulum, the Triangle, Aries, the Ram, and Cetus, the Sea Monster. Auriga, the Charioteer, with its bright star Capella, and Taurus, the Bull, are rising in the northeast. The bright star Aldebaran, a red giant representing the eye of the bull, should be rising close to Jupiter.
Above Aldebaran, look for the Pleiades, a beautiful open star cluster. Also called the "Seven Sisters," it has been known since antiquity. In Japan it is known as Subaru, and the Subaru automobile is named for this cluster. Before the Gregorian calendar reform in 1582, the Pleiades culminated around midnight on October 31st, and it has been traditionally associated with Halloween.
On Learning the Constellations: We advise learning a few constellations each month, and then following them through the seasons. Once you associate a particular constellation coming over the eastern horizon at a certain time of year, you may start thinking about it like an old friend, looking forward to its arrival each season. The stars in the evening scene above, for instance, will always be in the same place relative to the horizon at the same time and date each October. Of course, the planets do move slowly through the constellations, but with practice you will learn to identify them from their appearance. In particular, learn the brightest stars for they will guide you to the fainter stars. Once you can locate the more prominent constellations, you can "branch out" to other constellations around them. It may take you a little while to get a sense of scale, to translate what you see on the computer screen or what you see on the page of a book to what you see in the sky. Look for patterns, like the stars that make up the constellation of Perseus.
The earth's rotation causes the constellations to appear to move across the sky just as the Sun and the Moon appear to do. If you go outside earlier than the time shown on the charts, the constellations will be lower to the eastern horizon. If you observe later, they will have climbed higher. To observe faint objects, it's always better to wait until they are high in the sky.
As each season progresses, the earth's motion around the sun causes the constellations to appear a little farther towards the west each night for any given time of night. The westward motion of the constellations is equivalent to two hours per month.
Recommended:
Sky & Telescope's Pocket Star Atlas is beautiful, compact star atlas. It is destined to become a classic, and is a joy to use at the telescope.
A good book to learn the constellations is Patterns in the Sky, by Hewitt-White. You may also want to check out at H. A. Rey's classic, The Stars, A New Way to See Them.
For skywatching tips, an inexpensive good guide is Secrets of Stargazing, by Becky Ramotowski.
A good general reference book on astronomy is the Peterson Field Guide, A Field Guide to the Stars and Planets, by Pasachoff. The book retails for around $14.00.
Starry Night has several software programs for learning the night sky. Visit the Starry Night web site at www.starrynight.com for details.
The Virtual Moon Atlas (described last month) is a terrific way to learn the surface features of the Moon. And it's free software. You can download the Virtual Moon Atlas here.
Cartes du Ciel (described in the monthly notes above) is a great program for finding your way around the sky. It is also free, and can be downloaded here.
Amphibians: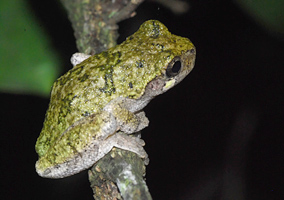 Cope's Gray Treefrog foraging beside our porch. September 2009
Listen for Southern Leopard Frogs calling during their fall breeding period. Listen also for Spring Peepers to call from patches of woods. Upland Chorus Frogs sometimes give a very dry, raspy version of their call in October. Warm-weather species like treefrogs seldom call now, but you can sometimes find them foraging in trees and shrubs. You can locate many of the frogs and toads that have been calling more frequently earlier in the year by driving the back roads slowly on rainy nights. This is a two person job. One person watches the road for amphibians and one person looks out for other vehicles. Continue to look for salamander species that breed in the fall, like the Marbled Salamander.
Recommended: The Frogs and Toads of North America, Lang Elliott, Houghton Mifflin Co.
Archives
(Remember to use the back button on your browser, NOT the back button on the web page!)
Natural Calendar September 2012
Natural Calendar February 2012
Natural Calendar December 2011
Natural Calendar November 2011
Natural Calendar September 2011
Natural Calendar February 2011
Natural Calendar December 2010
Natural Calendar November 2010
Natural Calendar September 2010
Natural Calendar February 2010
Natural Calendar December 2009
Natural Calendar November 2009
Natural Calendar September 2009
Natural Calendar February 2009
Natural Calendar December 2008
Natural Calendar November 2008
Natural Calendar September 2008
Natural Calendar February 2008
Natural Calendar December 2007
Natural Calendar November 2007
Natural Calendar September 2007
Natural Calendar February 2007
Natural Calendar December 2006
Natural Calendar November 2006
Natural Calendar September 2006
Natural Calendar February 2006
Natural Calendar December 2005
Natural Calendar November 2005
Natural Calendar September 2005
Natural Calendar February 2005
Natural Calendar December 2004
Natural Calendar November 2004
Natural Calendar September 2004
Natural Calendar February 2004
Natural Calendar December 2003
Natural Calendar November 2003
Natural Calendar September 2003
Natural Calendar February 2003
Natural Calendar December 2002
Natural Calendar November 2002
Nature Notes Archives: Nature Notes was a page we published in 2001 and 2002 containing our observations about everything from the northern lights display of November 2001 to frog and salamander egg masses.
Night scenes prepared with The Sky 6 Professional from Software Bisque
All images and recordings © 2012 Leaps