Natural Calendar - May 2007
The purpose of this feature is to give scout leaders, educators and naturalists an idea of some of the natural events coming up each month. We will try to cover a variety of natural events ranging from sky events to calling periods of amphibians, bird and mammal watching tips, prominent wildflowers and anything else that comes to mind. We will also note prominent constellations appearing over the eastern horizon at mid-evening each month for our area for those who would like to learn the constellations. If you have suggestions for other types of natural information you would like to see added to this calendar, let us know!.
Note: You can click on the hyperlinks to learn more about some of the featured items. To return to the Calendar, hit the "back" button on your browser, NOT the "back" button on the web page. All charts are available in a "printer friendly" mode, with black stars on a white background. Left clicking on each chart will take you to a printable black and white image.
Notes and Images From April 2007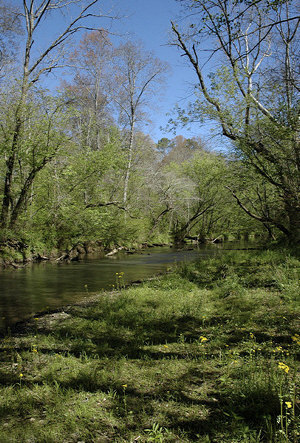 Tiger Creek, April 18th
I've been spending a lot of time doing wildlife surveys lately and I seem to have been particularly fortunate in hearing what I think of as "farewell songs" from quite a few of the bird species that winter in our area. Prior to departing to points north, many birds that have been relatively silent all winter begin to sing, and some of the songs are really quite beautiful. Winter Wrens have a long and complex song that is often heard in April. It always amazes me that such a rich song could come from such a tiny bird. The same could be said for the song of the Ruby-crowned Kinglet, which also sings a lot in early spring. Perhaps my favorite of these songs is the hauntingly beautiful song of the Hermit Thrush. Heard as the light fades at the end of a day, it is unforgettable. Once, in the early morning twilight, I was treated to the "winnowing" sound of snipe performing display flights. The sound is produced by air passing through their outer tail feathers as they dive towards the ground. This April it seemed I could see and hear the turning of the season everywhere.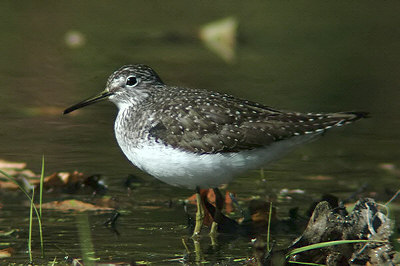 Solitary Sandpiper, April 17th
I photographed this Solitary Sandpiper on the edge of a small wetland. I saw many this year along the borders of lakes, streams and wet areas. Their long journey takes them far north, into the Canadian spruce forest. I never tire of rounding a bend and finding them quietly making their way along the water's edge, stopping now and again to probe with their bill for dragonfly nymphs, water scavenger beetles, water boatmen, and other small prey.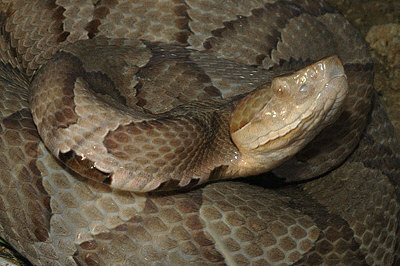 Northern Copperhead, April 27th
This Northern Copperhead was actually a very docile snake, but I incurred its wrath by moving it off a paved road with a (long) stick. I was afraid the next driver that came along would not look upon it kindly. It was in a very unattractive spot, on a red clay bank dotted with clumps of fescue, and in glaring sunlight. I stopped my camera down and used a flash to control the lighting, and moved in as close as I felt comfortable to crop out the offending background. Needless to say, I stayed well out of striking distance. It pays to give venomous snakes like this a lot of respect. However, they are a valuable and important part of the ecosystem, and deserve our protection.
Sky Events for May 2007:
Evening Sky:
Venus continues to climb higher into the evening twilight in May. It appears in the western sky before any star or planet. Be sure to look for it on May 19th, when it forms a really pretty pairing with the crescent moon. Saturn is well placed for viewing all month long. At dusk, look for it in the southern sky near the "sickle" of the constellation Leo. Jupiter rises about 9:25pm at mid-month near the bright star Antares, in Scorpius (see the illustration below). Once the great planet climbs higher above the horizon, see if you can spot any of the four "Galilean" moons with binoculars. You will need to steady your arms against a solid object when you do this.
Morning Sky: Mars rises about 3:20am at midmonth in Pisces.
All times noted in the Sky Events are for Franklin, Tennessee and are Central Daylight Time. These times should be pretty close anywhere in the mid-state area.
Constellations: The views below show the sky looking east at 9:30pm CDT on May 20th. The first view shows the sky with the constellation outlined and names depicted. Star and planet names are in yellow. Constellation names are in green. The second view shows the same scene without labels. New constellations this month in the eastern sky are Lyra, the Lyre, with it's bright star Vega, and Ophiuchus, the Serpent Bearer, Libra, the Scales, and the head and upper body of Scorpius, the Scorpion. Look in the southeast for Scorpius and it's bright red star Antares.
On Learning the Constellations:
We advise learning a few constellations each month, and then following them through the seasons. Once you associate a particular constellation coming over the eastern horizon at a certain time of year, you may start thinking about it like an old friend, looking forward to its arrival each season. The stars in the evening scene above, for instance, will always be in the same place relative to the horizon at the same time and date each May. Of course, the planets do move slowly through the constellations, but with practice you will learn to identify them from their appearance. In particular, learn the brightest stars (Like Antares and Vega in the above scene looking east), for they will guide you to the fainter stars. Once you can locate the more prominent constellations, you can "branch out" to other constellations around them. It may take you a little while to get a sense of scale, to translate what you see on the computer screen or what you see on the page of a book to what you see in the sky. Look for patterns, like the stars that make up the constellation Hercules.
The earth's rotation causes the constellations to appear to move across the sky just as the sun and the moon appear to do. If you go outside earlier than the time shown on the charts, the constellations will be lower to the eastern horizon. If you observe later, they will have climbed higher.
As each season progresses, the earth's motion around the sun causes the constellations to appear a little farther towards the west each night for any given time of night. If you want to see where the constellations in the above figures will be on June 15th at 9:00pm CDT, you can stay up till 11:00pm CDT on May 15th and get a preview. The westward motion of the constellations is equivalent to two hours per month.
A good book to learn the constellations is H. A. Rey's classic, The Stars, A New Way to See Them. Rey's depictions of the constellations and witty commentary are terrific.
A good general reference book on astronomy is the Peterson Field Guide, A Field Guide to the Stars and Planets, by Pasachoff. The book retails for around $14.00.
My favorite books about astronomers are Richard Preston's First Light, and the wonderful Starlight Nights, by Leslie Peltier.
A good beginners software program for learning the night sky is the Starry Night Beginner program. Visit the Starry Night web site at www.starrynight.com The program retails for around $30.00 and contains a wealth of information.
Amphibians: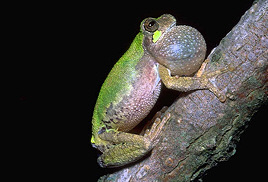 Bird-Voiced Treefrog
By the end of May all of Tennessee's frogs and toads are either calling or have already reached their peak calling period and are being heard less. The treefrogs are the last of our frogs and toads to start calling. Cope's Gray Treefrog and Gray Treefrogs start giving isolated calls as early as March, and by the end of this month listen also for Bird-Voiced Treefrogs, Green Treefrogs and Barking Treefrogs. In May we also hear Fowler's Toads calling frequently, so listen for their "crying baby" call. Northern Cricket Frogs are hitting their stride as well. Listen for a sound like two stones being tapped together. We have heard eight or more species of frogs calling on some May evenings, so it's a great time to listen. Southeastern Chorus Frogs and Northern Spring Peepers continue to call. Listen for their calls to increase in pitch and quicken with the rising temperatures.
Birds:
Try to get out with a pair of binoculars in the early morning in the first two weeks of May to take full advantage of the spring migration. The later nesting owls like Eastern Screech Owls are nesting right now. In late May and early June, the young screech owls can sometimes be heard giving their raspy "begging" calls. Easier to hear is a sound that the adult owls make around the young owls, a downward slurred whistle about a half second in duration. This call sounds more like a puppy whimpering than an owl, but you can sometimes follow the sound and come upon a whole group of young screech owls on a tree limb.
Recommended:
Bird Finding in Tennessee, Michael Lee Bierly. A classic guide to finding birds in Tennessee.
The Sibley Guide to Birds, David Allen Sibley
The Sibley Guide to Birds of Eastern North America, David Allen Sibley
This new Sibley Guide covers only eastern North America, is quite compact, and is less expensive than the larger Sibley.
An inexpensive guide for beginners is the Golden Guide for Birds.
Wildflowers:
Some of favorite Spring wildflower walks are:
The south ridge at the Owl's Hill Nature Center in Brentwood, Tennessee.
The Edwin Warner paved loop at the Warner Parks in Nashville or just about any trail in Warner Parks.
The greenway at Ashland City, Tennessee.
The Angel Falls trail along the Cumberland River at the Big South Fork Recreational Area, near Jamestown, Tennessee.
Archives
(Remember to use the back button on your browser, NOT the back button on the web page!)
Natural Calendar February 2007
Natural Calendar December 2006
Natural Calendar November 2006
Natural Calendar September 2006
Natural Calendar February 2006
Natural Calendar December 2005
Natural Calendar November 2005
Natural Calendar September 2005
Natural Calendar February 2005
Natural Calendar December 2004
Natural Calendar November 2004
Natural Calendar September 2004
Natural Calendar February 2004
Natural Calendar December 2003
Natural Calendar November 2003
Natural Calendar September 2003
Natural Calendar February 2003
Natural Calendar December 2002
Natural Calendar November 2002
Nature Notes Archives: Nature Notes was a page we published in 2001 and 2002 containing our observations about everything from the northern lights display of November 2001 to frog and salamander egg masses.
Night scenes prepared with Starry Night Pro software
All images and recordings © 2007 Leaps